News 2004
To read the very last news about the celebration of the 150th anniversary of Arthur Rimbaud's birth, between 2 updates of the site please visit the forum.
You can also take a look at the calendar of events, done with what I was able to collect in the news and also with what was announced to me. If you have information to share, do not hesitate to contact me, it could be useful to others lovers of the poet who would like not to miss anything of that special year.
To read the articles in French, please click on the blue links. To translate them in your language, you can use altavista translator or Google's language tools. Due to lack of time and also the amount of events around Rimbaud this year, I won't translate everything but the main events and the site updates. So you can check the news in French and also use the same way to translate them. If you have problems to understand something, you can still contact me for further details. I apologize for the inconvenience.
Thanks for the visit.
Catherine
29/12/2004 Washingtontimes.com (AFP): French poet looms large in Ethiopian city.By Lea-Lisa Westerhoff.
Some 150 years after his death, the memory of Arthur Rimbaud is being kept alive in the unlikely setting of this ancient Muslim Ethiopian city, where the French poet spent a few years, fueling a myth that has become a major draw for tourists.
Across the street leading to the main square in Harar's old town, large banners proclaim "150th anniversary of Rimbaud, 1854-2004."
Rimbaud never lived in the house that now bears his name here. However, the time he spent in Harar on and off between 1880 and 1891 generated a myth that is often far removed from the historical record but has proved a boon for tourist guides.
Asked if she knew who the poet was, a woman named Salam, 26, replied: "He is a Frenchman who did a lot of good things for Hararis, such as the Rimbaud house."
There are few remaining traces of Rimbaud in this city of 130,000, which is the spiritual heart of Ethiopia's large Muslim community, and many residents confuse the poet with the film character Rambo — which sounds very similar to Rimbaud — portrayed by American movie star Sylvester Stallone.
Antenna, 19, said she was very fond of the French poet, although she clearly knows very little about him. "I adore what he does. Later, I would like to follow on his footsteps. But I would appreciate if someone could give me his address so I could send him a letter in France," she said.
Guides, meanwhile, flock to Feras Magala Square, offering to take visitors on a tour of what they call the "real Rimbaud house." But the "Rimbaud house" that has been turned into a museum after being restored and reopened in 2000 was in fact built after the years that Rimbaud spent in Harar.
Rimbaud, who wrote the poem "The Drunken Boat" and "After the Flood" or the "Orphan's New Year," apparently stayed at the Wesen-Segen hotel — located between an Orthodox church built by the late Emperor Menelik in 1887 and a candy store — when he first arrived in Harar in November 1880.
He was by then a trader and gunrunner in the vast desert land that was then called Abyssinia. There is little left now to suggest that the hotel was then the Bardey trading house. But the owner proudly shows off his establishment to visitors. "Rimbaud apparently lived here, in a ground-floor room," he said.
Guides also claim that Rimbaud also lived in two other houses in the city, although they seem not to agree on their locations. "Rimbaud was not known when he was alive, but today his fame is a boon to tourism in Harar," said Ahmed Zacharia, the town historian. "Rimbaud was a pioneer, we must continue to nurture this link he created with France and turn it into a commercial, economic and tourism partnership between the two countries," concurred Harar Mayor Zeydan Bekri.
On Oct. 20, Harar sealed a sister-city agreement with Charleville-Mezieres, the northeastern French town that is Rimbaud's birthplace, on the anniversary of his birth.
"We started with the Rimbaud museum in 2000. Now we have this twin-city agreement. This house is a place to promote tourism. ... In Harar, we make a lot of pretty baskets, we have gemstones. These things could be sold in France, particularly in Charleville-Mezieres," said Fuad Ibrahim, president of the Harar region. He said Harar currently attracts 5,000 foreign tourists a year and expressed hope the figure might double.
At age 19, Rimbaud turned his back on poetry for a life of travel and adventure. After traveling around Europe for a couple of years, he headed for Abyssinia.
At the end of a tumultuous life, he returned to Marseille, in southern France, where he died in November 1891 at age 37, after his right leg was amputated, probably because of complications of syphilis.
20/10/2004 150th Anniversary of Arthur Rimbaud's Birth.
That's the D Day. There are so much articles and events, mainly French that I propose you to visit the forum, News section, opened to everybody, and to take a look at the Rimbaud Calendar. Have a nice day.
ABCnews (AP): France marks Rimbaud's 150th anniversary.
France marks 150th Anniversary of Rimbaud's Birth, Begins Yearlong Tribute to 19th Century Poet.
The spirit of 19th century French poet Arthur Rimbaud is celebrated in his former home, inaugurated Wednesday, not by photos, artifacts and documents recalling his life but by empty rooms.
The opening of the Maison Arthur Rimbaud (Arthur Rimbaud House) on the 150th anniversary of his birth was the culmination of a yearlong tribute to Rimbaud in his hometown of Charleville-Mezieres in northeast France.
The house's themed rooms, completely bare of furniture, feature video projections evoking cities that influenced the poet through his life, including Charleville, which he once described as "the stupidest of small provincial towns."
"We came to the conclusion that he had rejected and denigrated the house in some of his writings and poems and thus that the house itself didn't really have much value," said Philippe Comte of Guliver Design, the firm that redesigned the interior.
"If we look at Rimbaud's reality through his poetry, through his explorations and his travels, what we can establish is that the house was the point of departure for his imagination and for his physical departures," he added.
On the first floor are the places Charleville, Paris, London and Brussels that had an impact on his writing.
The second floor is a voyage through his other wanderings starting with Europe, descending to Africa and then focusing on Aden in Yemen and Harar in Ethiopia. Rimbaud was born on in 1854 in Charleville, and died in 1891 in the port city of Marseille in southern France.
Rimbaud, part of the French symbolism movement, is most famous for his collection of prose poems, "Illuminations," and for his "Sonnet of the Vowels" and "The Drunken Boat."
For those Rimbaud admirers put off by the house's modern approach, the small Rimbaud Museum opened in 1969 and located 164 feet away indulges more traditional tastes with paintings, artifacts and original manuscripts.
15/09/2004 The Rimbaud Calendar has been updated around the main events that will take place in Charleville this autumn. You can download the full program for the next 3 months in pdf format on the official website of Charleville-Mézières.
On October 20, the Italian association "il ponte del sale" will celebrate the 150th anniversary of Rimbaud's birth in Rovigo, near Venise, with Italian poets. Here is the pre-poster of the event.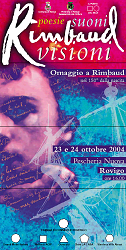 On this site, you can find the work of Hubert Pauget, illustrating Rimbaud's poems. His work was shown during exhibitions in Charleville.
01/09/2004 Multimedia event in London to celebrate 150th year anniversary of Rimbaud's birth.
NYU in London, 291 Gallery and the Curzon Cinema, host a season of special evenings coinciding with the Poetry Lounge at The Royal Festival Hall. These events commemorate the 150th anniversary of the poet Arthur Rimbaud. Artists, filmmaker's academics and curators have come together to celebrate his life and times, and to simultaneously explore the legacy of his influence on early Modernism to our present contemporary culture. The season begins with two evenings at the NYU in London comprising of an introduction by Professor David Ruben director of NYU in London. Writer and broadcaster Paul Ryan presents his lecture on the life and poetry of the poet thus plotting a course for a voyage through spoken word by Gad Hollander, Cristina Viti, Hervé Constant, Susana Medina, Oliver Bernard and many more. Rare films by Maurice Lemaitre, Gilles Breton, Leonard Schwartz, Fatigoni and Marco Zoi. The evening concludes with drinks and the Rimbaldien music of Gamine, Patti Smith, John Cage and Benjamin Britten.
NYU in London
6 Bedford Square WC1
Nearest tube: Tottenham Court Road or Goodge Street.
Wednesday 20th October 2004 – Thursday 21st October 2004.
6:30pm – 10pm.
Admission free.
RSVP: Anna on 020 7907 3217 or Hervé on 020 7249 6021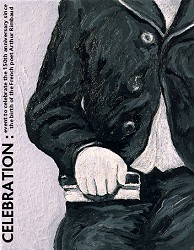 For further information on all the Rimbaud events log onto www.herveconstant.co.uk..
01/08/2004 Exhibition Norma Weller: "The Mystic Face of Rimbaud".
Exhibition of iconic images first shown at the Horta Museum in Brussels and the Rimbaud Museum in Charleville. The only pictorial works ever to explain the enigma of France's great poetic genius and his unexplained renunciation of poetry at an early age for the life, finally, of a wandering trader and merchant in Harar in Abyssinia. With bi-lingual introduction, titles and texts by Sydney Vale, Correspondant pour l'Angleterre et membre de L'Association des Amis de Rimbaud à Paris.
The Hove Icon Gallery, 3 Albany Mews, Fourth Avenue, Hove, East Sussex, BN3 2PQ. Telephone: (01273) 77 56 30. E-mail: norma.weller@zoom.co.uk.
Opening on Sunday 1st August to 30 November 2004. Sundays 2 to 5Pm, other times by appointment only. Entrance free, donations welcome. Hove is situated in the City of Brighton (80 kms south of London).
24/07/2004 The calendar of events dedicated to Rimbaud in Germany has been updated.
The forum is back to mag4.net. Please update your bookmarks.
11/07/2004 The official website dedicated to the documentary "Quoi? L'Eternité", directed Etienne Faure is opened.
EIVISSA PRODUCTIONS is still searching for some more American and Asian fans of Rimbaud. If you are interested, see the communiqué and the form above.
- The Calendar of events has been updated.
- A Rimbaud exhibition, with works by Jean-Claude Sadoine, sculptor, is actually travelling across France and Belgium. To learn more, please check his official website.
- Two new paintings by Etienne Szabo have been added in the Rimbaud Album.
05/07/2004 The calendar of the events around Rimbaud has been updated.
Please also check the news in French to find the calendar of the main events in Germany.
21/06/2004 Two new entries in the Rimbaud Album.
They are concerning Etienne Szabo, who illustrated several Rimbaud's poems and is actualy working on new paintings for the 150th anniversary of the poet's birth. And Mario Mercier's paintings which were exposed in several French Museums and were reproduced in a beautiful album called "Rimbaud Poèmes", published by Albin Michel in 1991 for the 100th anniversary of Arthur's death.
08/06/2004 New entries on the Rimbaud in Songs page.
01/06/2004 New entry in the Rimbaud Album: Georg Cadora, for a German Rimbaud 2004 project.
For the 150th anniversary of Rimbaud's birth, Georg Cadora, an artist from Krefeld, Germany, created a memorial poster in colour (format 50 x 70). You can get it for 10,00 Euros (+ 3,00 Euros for postage). A second poster, "Rimbaud, the thief of fire", will be send for free with the first one to every people who buy it. The receipts will be fully reinvested in the intercultural project Rimbaud 2004, by 19 universities of Rhineland-Wesphalia, for him to be better known in France and Germany. Very soon, I will give you the calendar of these events around the poet in Germany.
20/05/2004 On the website of the town of Charleville-Mézières, you can download the culturel program of April / May / June 2004. For everything concerning Arthur, you will find a AR logo in front of the event.
The page dedicated to the Poème de la Mer has been updated with new dates and places where it will be possible to watch the cartoon.
Actually, at the Rimbaud's Museum in Charleville, there is an exhibition of drawings by José Correa about Arthur Rimbaud and Leo Ferré, the French singer who put his poems in music, until June 27.
23/03/2004 Rimbaud 2004: The project "Rimbaud, The Essential Walker" is updated.
The page was updated around new elements. For memory, it is a pedestrian relay in the Ardennes, in Ethiopia and in Marseilles, around 600km with two marathonians (30 to 40km/day/runner in one week), is carried out by Gilles Simon, marathonian-poet and Didier Arnould.
October 16 between Charleville and Roche. Beatrice Libert, poetess inhabitant of Liège, belgium, will say texts on walk and travel.
From October 20 to 26 in Ethiopia: declamations in Addis, Awashe (Cafe of the Station), and Harar in front of representatives of the French Alliance.
October 29 in Marseilles.
Gilles Simon is still searching for additional financial supports.
Update of the page about "The Poem of the Sea", Erwann Le Gal's cartoon.
Hélène Grimaud, the "pianist with the wolves" agreed that her interpretation of the "Sonata of Dante" by Franz Liszt will be used in the cartoon. This music will be used like a leitmotiv symbolizing the descent in hell (abyssals zone) of Captain Nemo.
22/03/2004 Agenda.be: Concert Patti Smith & Band: 'Rock n' Rimbaud' at the "Palais des Beaux-Arts" of Brussels, Belgium, on March 26.
Patti Smith will interpret her own songs in alternation with texts of her favourite poet, Arthur Rimbaud. A true event!
Place: "Palais des Beaux-Arts"/Bozar
r. Ravenstein 23 - 1000 Brussels, Belgium
Infos: 02-507.82.00
Reservations: 02-507.84.44
Fax: 02-511.05.89
Email
Web site
Price: 25 > 48 Euros
08/02/2004 I added a second drawing from the "Poem of the Sea" (Poème de la Mer), the cartoon by Erwan Le Gal on the page Brest 2004.
05/02/2004 Publication of a new French book, dedicated to Rimbaud's mother: "Vitalie Rimbaud" by Claude Jeancolas (Flammarion, 340 pages, 21 euros) on February 21, 2004.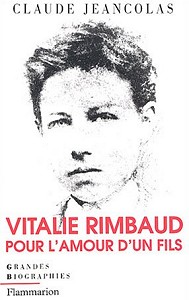 03/02/2003 Brest 2004: Le Poème de la Mer (The Poem of the Sea).
Brest 2004 is a festival which gathers more than 2000 sailing ships of 25 different countries. This festival takes place every four years, and this year, it will be held from July 10 to July 16, 2004. At this occasion, Erwan Gal will present his cartoon "the Poem of the Sea", whose words are said by Richard Bohringer, a French actor. "The Poem of the Sea" is inspired by Arthur Rimbaud's "Drunken Boat", to pay homage to the poet.
More explanations and a drawing coming from the cartoon on that page.
02/02/2004 Poster Rimbaud 2004.
The official poster of Rimbaud's year is for sale at Rimbaud Museum.
Two formats are available:
- 60x80 cm: 6 Euros
- 120x176 cm: 10 Euros
28/01/2004 The 2004 calendar of events around Rimbaud has been updated.
You can download the pre-programme of the activities around Rimbaud and the cultural programme of the first quarter on the official site of Charleville-Mézières, the native town of the poet.
The opening of the site dedicated to Rimbaud is announced for this spring and the opening of Rimbaud's house in Charleville, quai Rimbaud, must take place on October 20, his birth date.
13/01/2004 Opéra de Paris: "L'espace dernier" after Arthur Rimbaud's texts.
From February 23 to March 9, The National Opera of Paris will present as a world creation "The Last Space", an opera by Mathias Pintscher, young German composer, after Arthur Rimbaud's texts, at the Opera Bastille.
Musical director Kwamé Ryan
Production, set and lights Michael Simon
Costumes Anna Eiermann
Choregraphy Ron Thornhill
Video Dominik Rinnhofer
Electronic music Christian Cluxen
Orchestre de l'Opéra National de Paris
Available dates:
Monday 23 February 2004 - 20h00 from 30 Euros to 61 Euros
Thurday 26 February 2004 - 20h00 from 30 Euros to 61 Euros
Monday 1 March 2004 - 20h00 de 30 Euros from 61 Euros
Wednesday 3 March 2004 - 20h00 from 30 Euros to 61 Euros
Saturday 6 March 2004 - 20h00 from 30 Euros to 61 Euros
Tuesday 9 March 2004 - 20h00 from 30 Euros to 61 Euros

Length of the show: 1h25

Price of the seats:
61 Euros 50 Euros 40 Euros 30 Euros 21 Euros 14 Euros 7 Euros
For reservations, here is their website: http://www.opera-de-paris.fr/ then click on the link "l'espace dernier" in the left menu.
08/01/2004 Rimbaud 2004, Le marcheur essentiel (the essential walker).
A project of which I already spoke and you will find the final concept on this page. It will start on October 22, 2004.
07/01/2004 For the 150th anniversary of Rimbaud's birth, the town of Charleville-Mézières organizes in 2004 a series of events. The final program will be available quarter per quarter, in February, at Rimbaud's Museum, Quai Rimbaud, Charleville-Mézières, France.