News 2001
29/11/2001 Arthur Rimbaud: Poems and texts illustrated by Gabriel Lefebvre.
A very beautiful book (in French) to offer for Christmas. Gabriel Lefebvre illustrates forty poems, also "A Season in Hell" and "Illuminations" complete works. 215,02FF on Amazon.fr (EUR 32,78)

24/11/2001 My host Multimania is trying new pop-ups with ads.
They automatically disappear after some seconds. The big one on the main page must appear just one time per day, at your first visit. I apologise for the inconvenience, but it is the price to pay for the hosting to stay free and for the site to go on. Thanks a lot for your patience.
14/11/2001 The site has changed of address.
Please update your bookmarks.
04/11/2001 Rimbaud Album is being reorganised and new works have been added.
26/10/2001 The site is being reorganised.
For visitors referred by search engines and directories: some pages have been moved and Url are no more available. An internal search engine has been added to the 404 error page to help you to find your way.
11/10/2001 Arthur Rimbaud at Orpheu.com, online poetry and literature magazine in Portuguese, October issue.
25/09/2001 The mailing list has moved to Topica. Members will be recontacted. I hope to see you all there.
09/07/2001 2 new sections have been created. The first one about Rimbaud at theatre and on screen, the second about the singers who sang his poems or wrote a song inspired by him. Mainly in French.
01/07/2001 Photos of Metz, Verlaine's native town, are finally online and his biography has been completed (in French only).
About the Mailing list, Lisbot service will stop to be free next month, so I'm moving it to Webdonline. All members will be automatically re-contacted.
Messages archives can be read on the forum.
10/06/2001 A Gallery dedicated to Herve Constant, another painter inspired by the poet and his poetry, has been added in the Album Rimbaud's section. Courtesy of Herve Constant. His Gallery can be visited in London.
25/05/2001 Urbuz.com: Three authors in search of Rimbaud.
When the dream vanishes, only rough reality to embrace is staying ...
Interview of the authors of the book "Rimbaud in Aden" by Joël Jégouzo.
16/05/2001 Roche's pictures are online!
12/05/2001 Rimbaud, The 8th photo.
Only seven portraits of the eternal teenager of poetry were known. A new one has been discovered, taken at the beginning of his long season in hell in Aden. Full article in French on Paris-Match website, and in the magazine n° 2711, 10th May 2001 issue.
The photo is revealed by 2 French books published at Fayard editions: "Arthur Rimbaud", a biography by Jean-Jacques Lefrère and "Rimbaud in Aden", an album of photographer Jean-Hugues Berrou, guided on the accursed poet's footsteps by Jean-Jacques Lefrère and the collector Pierre Leroy. It has been discovered by a Parisian trader and bought by Pierre Leroy. This photo is part of a 30 pics of Aden's batch, taken about 1880, when Rimbaud lived there. The collection belonged to Cesar Tian, last Rimbaud's employer (see Biography). It is not impossible that some others could be found.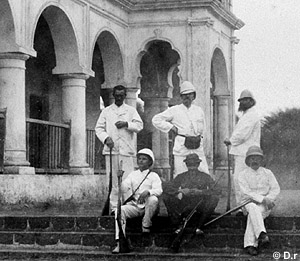 Circa 1880, Arthur Rimbaud (standing, left side) pose beside other Europeans
on the stairs of a rich ottoman residence, Consul Ibrahim Hassan Ali,
in Sheikh-Othman, in the neighbourhood of Aden.
08/05/2001 New pics of Charleville and Roche added.
14/04/2001 Letters in French from Verlaine to Rimbaud have been added in the Documents section of Rimbaud Site.
04/04/2001 The French illustrated biography of Paul Verlaine is now online, with an album of photos and drawings. You will have to wait a little for translation because I am really overloaded with work, and so are my friends:-)