News 2007
21/12/2007 UK release of "I'm not There".
I'm Not There is a biographical film inspired by the life of musician Bob Dylan. It depicts the iconic singer-songwriter through seven distinct stages of his life by using six different actors (Marcus Carl Franklin, Ben Whishaw, Heath Ledger, Christian Bale, Richard Gere, and Cate Blanchett), though all six characters have names other than Bob Dylan. Co-written and directed by Todd Haynes, it also features David Cross, Charlotte Gainsbourg, Julianne Moore, Michelle Williams, and Richie Havens.
The film tells its story using non-traditional techniques, similar to the poetic narrative style of Dylan's songwriting. It takes its name from the Dylan outtake "I'm Not There", a song never officially released until its appearance on the film's official soundtrack album. The film was presented at London Film Testival in October.
American film directed by Todd Haynes with Christian Bale, Cate Blanchett, Richard Gere, Ben Whishaw, Marcus Carl Franklin, Heath Ledger. 2h15.
The official website of the movie and its page at MySpace.
Independent.co.uk: How I'm Not There reveals another side of Bob Dylan. By Jonathan Romney
Todd Haynes took on the challenge of a lifetime by making a film about the legendarily enigmatic troubadour. The resulting biopic is almost as hard to pigeon-hole as the man himself.
There are biopics and biopics, but nothing remotely like I'm Not There, Todd Haynes's hall-of-mirrors life of Bob Dylan – or rather his fantasia on, as the credits specify, "the music and many lives of Bob Dylan". Whether or not Haynes's film "works", whether or not it "makes sense", whether or not it "tells" you anything specific about its subject, this is as bracingly strange and ambitious a project as American cinema has produced in a while.
Haynes's last flirtation with music was 1998's Velvet Goldmine, inspired by David Bowie and the glam-rock years. In I'm Not There, Haynes reclaims Dylan as a proto-Bowie chameleon, even – in Cate Blanchett's turn as a skeletally androgynous Sixties rocker – as a Thin White Duke avant la lettre. Six actors "play" Dylan, after a fashion, each embodying one or more of his personas over the years. Blanchett dons the shades and spidery threads of the mid-Sixties hipster as Jude Quinn, a rocker wearied by adulation, hostility and the "Judas" brickbats endured while touring Britain. A breathtakingly canny, genially brash 11-year-old black actor called Marcus Carl Franklin represents the embryonic folkie, here calling himself Woody Guthrie after his hero, and living out anachronistic fantasies of being a Depression-era boxcar hobo.
Christian Bale, at his most forbidding and wiry, plays Jack Rollins, a protest singer who retreats into hellfire preaching, evoking the born-again Dylan of the early Eighties. Heath Ledger – now here's where it gets complicated – isn't strictly Dylan at all, but Robbie, a movie actor who once played Jack Rollins in a biopic called Grain of Sand (the film that, we're to understand, Haynes's defiantly isn't) and whose relationship with French painter Claire (Charlotte Gainsbourg) echoes Dylan's spells with both early Sixties girlfriend Suze Rotolo and his former wife Sara. Ben Whishaw also contributes gnomic one-liners as a figure who's half Dylan, half Arthur Rimbaud – the poet whose formulation "'Je' est un autre" (which roughly translates as "It ain't me babe") pretty much serves as the film's founding principle.
True to Rimbaud, Haynes the director is never remotely "himself" in the film. Just as the film resembles an oddly selective Dylan compilation set on shuffle, tentatively gesturing at linear biography while scrambling and distorting it, Haynes's own style zips around crazily: one moment he's pastiching D A Pennebaker's Dylan documentary Don't Look Back, with additional splashes of Fellini, Godard and Richard Lester (there's a lovely Beatles-as-Chipmunks gag here); the next he's illustrating "Ballad of a Thin Man" in disconcertingly literal MTV style. As for Robbie and Claire's divorce, it's set in a domestic-realism mode that may or may not be deliberately evoking the banality of Kramer vs Kramer.
While most of the film is just about readable as an imaginative version of Dylan's actual life, the segment that's truly an inscrutable curveball – and that will be a deal-breaker for many viewers – is the Richard Gere section. Booted and grizzled, he plays a country loner who conflates Billy the Kid and the taciturn character that Dylan played in Sam Peckinpah's 1973 film about the outlaw. Living in a dream version of Dylan's country retreat of the Sixties, he visits a town called Riddle that feels like Rimbaud's idea of the Wild West; peopled by carnival costume acts, kids wearing tumbleweed, and stray zoo animals, Riddle seems to be a visualisation of the free-associative rambles of Dylan's liner notes. Either you'll be entranced or you'll find yourself screaming "There must be some kind of way outa here", but you have to admire Haynes's nerve in insisting that this strand be taken as an integral part of the whole. With the rest, you can just about feel you're getting the drift, but the "Billy" section throws the whole thing defiantly askew.
I'm Not There is not easy to describe, but it's still easier to describe than evaluate. You see how Haynes and co-writer Oren Moverman operate, but it's harder to determine exactly what the film is attempting, or whether it succeeds. The one certain thing to say is that Haynes is taking his belief in fragmentation and fluid identity to the absolute extreme – justifiably so, given a subject whose career is arguably the most fragmented and fluid in American art. Whether or not the hardcore Dylanolaters will approve, lovers of his music can only be impressed by Haynes's intelligent avoidance of the obvious jukebox factor. For a start, he's chosen to name his film after an extremely obscure song from the Basement Tapes era. (Stick around through the end credits to hear a thunderous Sonic Youth version.) Among the unexpected gems from the songbook, there's a heartrending version by singer Jim James of "Goin' to Acapulco" and Dylan's own poignant, forlornly apocalyptic "Blind Willie McTell", when the child Woody goes to visit the real, dying Woody Guthrie in hospital.
In fact, the nearest we hear to a Greatest Hit is right at the end, a snatch of "Mr Tambourine Man" – and then it's just a sweetly lugubrious harmonica coda played by Dylan, glimpsed himself for the first time in the closing fragment of Sixties footage. Do we know him any better by then? Hardly. The enigma remains intact, and if anything, becomes richer and stranger.
As for Todd Haynes, it's hard to see how he'll top this film's sheer audacity – but there's a musical about Thomas Pynchon that's just begging to be made.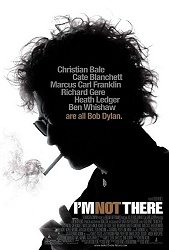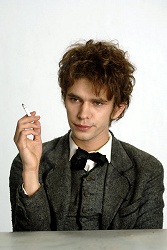 Ben Wishaw (The Perfume) as Rimbaud.
12/11/2007 Independent.co.uk: London home to be saved in honour of poetic lovers. By Emily Dugan.
A house in London that provided a backdrop for one of the most passionate affairs in literary history, between the French 19th century poets Arthur Rimbaud and Paul Verlaine, is to be saved to honour their legacy.
A host of prominent figures, including the author Julian Barnes, the comedian Stephen Fry, the singer Patti Smith and the actor Simon Callow, have backed a campaign to save the house in Camden amid fears that it would be acquired by property developers.
The romantic poets escaped to London in 1872, living in the house in the final days of their time in the city, after it became known in Paris society that they were having an affair. It caused a scandal in Paris not only because Verlaine was married, but also because he was considerably older than his boyfriend. Rimbaud was just 17 when they eloped to London.
While living at the house in Royal College Street they produced some of their most influential works, but in recent years the building had been left unused and fallen into disrepair.
Simon Callow, who has campaigned vociferously for the property to be saved, said the house was "a wonderful memento of the fruitful if nightmarish stay in England of these extraordinary men, of the work they did there, and indeed, of their affair".
Formerly owned by the Royal Veterinary College, it was sold at auction to a property developer at the beginning of this year.
Campaigners, who had tried unsuccessfully to find a sympathetic buyer who could afford the central London property, feared that the Georgian home would be gutted and turned into modern flats. But a wealthy admirer of Rimbaud's work put up the money to save the building and turn it into a poetry centre in honour of the pair. Michael Corby, said he had bought the house to save it from being stripped of its history. He has hired a designer and an architect to restore the house and create a space for performance events.
Mr Corby said: "I will admit I do not particularly care for Verlaine but I think Rimbaud is absolutely wonderful. My first objective is to get this place restored and then use this as a base to promote their works."
Their house in London has an important role in the poets' history. The end of their relationship in London has gone down in literary legend for its sheer absurdity. It began with an argument over a kipper and ended after a chase to Belgium where Verlaine, in a drunken rage, shot his lover in the wrist.
The influence of the two poets extended far beyond their own century. Their work has been seen as the precursor to the great modernists of the 20th century, such as Picasso, T S Eliot and Joyce; and the end of their love affair even made it into a Bob Dylan song.
Now the site of their last days together is to be become a place for poets to meet, research and perform. The conversion into a cultural centre is being pioneered by the charity Poets in the City, which has been getting backing from big financiers to create an archive of work, a performance space, and a café where artists can meet.
"It is probably going to be more tea and cake than absinthe," said Graham Henderson chief executive of Poets in the City, who has been negotiating with businesses to get sponsorship for the project. "A lot of people have been working hard over a long period of time to get the house saved.
"It is all on the drawing board at the minute, but we envisage a place that is a celebration of Verlaine and Rimbaud, where poets and enthusiasts can meet, do research and hold events."
Supporters of the project hope that French visitors arriving in London on Eurostar trains will drop into the house, which is close to the new St Pancras International station.
08/02/2007 Cnj.co.uk: Speculator snaps up poets' house. By Dan Carrier.
The Camden Town home of French poets Arthur Rimbaud and Paul Verlaine has been sold at auction for just over £2 million. The house, sold as part of a package of three Georgian homes by the Royal Veterinary college, had been the centre of a campaign by well-known faces in the arts world and French literary attaché Herve Ferrage to turn it into a centre celebrating the lives of the two poets.
The pair lived in the street in 1873, having fled Paris after their affair became public. Their work produced in Royal College Street has been compared to the works of William Wordsworth or Samuel Taylor Coleridge.
A mystery buyer was found but his bid for the houses was turned down by the college. Campaigners revealed he is an eccentric multi-millionaire philanthropist with interests in music festivals, including Glyndebourne, and is a trustee of a prominent music academy. However, he failed to complete the deal and the homes were auctioned off on Monday morning.
Property developer and businessman Michael Ogun fought off three other bidders to buy the homes in an auction at the New Connaught Rooms, a conference centre in Covent Garden.
He told the New Journal he plans to renovate the houses – currently on the English Heritage at risk register – and let them before potentially selling them off in four to five years.
He said: "I bought them because I think Camden Town prices are going to go nuclear in the next few years, and I plan to hold on to them for about that time and then sell them on." And he admitted he did not know of the home's literary background until the auctioneer quoted a Verlaine poem, reportedly written in a garret at the top of number eight.
Mr Ogun said although the house would be a private home – scuppering plans by campaigners to make the house a cultural centre and archive – he would give permission for an English heritage Blue Plaque to go up, something the Royal Veterinary College had blocked as they were trying to sell the property.
Mr Ogun said: "I'd be happy to see a proper blue plaque put up." Former Labour councillor Gerry Harrison, who campaigned to turn the home into a cultural centre, was at the auction. He said: "I'm disappointed that the College changed the goal posts – but they have made £500,000 more than they would have done if they stuck to the original plan."
18/01/2007 Thecnj.co.uk: French say 'save poets' house'. By Dan Carrier.
Cultural attaché enters row over Rimbaud and Verlaine's Camden home.
THE home of two of France's greatest poets is lying derelict and faces an uncertain future after plans to sell the site to a group of French writers fell through.
Number Eight, Royal College Street, was the home to Arthur R who fled Paris in 1873 when their love affair became public knowledge.
Now the French literary attaché to Britain Herve Furrage is calling on owners the Royal Veterinary College to safeguard the house's future. It is currently on English Heritage's at-risk register, and due to be sold at an auction in February.
Mr Furrage said the importance of the poets was similar to William Wordsworth or Samuel Taylor Coleridge – and the French government would support plans to use the site as a permanent memorial to their literary endeavours.
But now the building is due to be sold to the highest bidder and look set to be turned into private homes, with a guide price of around £500,000 each.
He said: "This is an important matter for people in France. Verlaine is seen as one of the main poets of the period, and Rimbaud has become a literary and cultural icon. His influence has continued on through the decades."
He added that their Camden Town garret was crucial to their work. He said: "They wrote some of their best known pieces here. London was more influential to them than anywhere else, even Paris.
"Camden was a major influence – so this house is very important. We want to support any plans to mark their time there as much as we can."
While in London, the pair wrote poetry that has become recognised as some of the most important in French literature.
Last year, a campaign by former Labour councillor Gerry Harrison to turn the Grade-II listed building into a cultural centre won the support of actor Simon Callow and writer Julian Barnes.
The home was due to be sold along with two neighbouring properties to an unnamed buyer, believed to be a group of French writers backed by a multi-millionaire interested in French literature. The new owner planned to rent out two of the three buildings and turn Rimbaud and Verlaine's house into a literary centre.
But the New Journal has learned the buyer did not have funds available and was unable to meet the time frame needed by the College.
Actor Simon Callow said: "In a way, it would be wonderful to preserve the house in which they loved, wrote and fought in its present form: there is some kind of poetic rightness in the dilapidation of the façade, something true to the rackety destinies of the two writers. But realistically speaking it needs to be restored. Perhaps it might become an archive or study centre, or at the very least a place in which the lives and work of the great poètes maudits are remembered and celebrated."
English Heritage asked permission to put a Blue Plaque on the façade of the house – but the College refused, as they expected the building to be sold to new owners. A College spokesman confirmed they had hoped to sell the properties to a group of unnamed French writers.
They accepted a bid in September, but legal paper work confirming they had the cash to buy it still had not been completed in December.
The spokesman said: "They are lying empty and getting in a worse state of repair. They are not suitable to be used for halls of residence for students so we are putting them up for auction."
Mr Harrison said he hoped plans for a literary centre would be resurrected.
He said: "It would make a great venue for a cultural centre and we hope some one will step forward and raise the money to both safeguard its future and celebrate the poets' time in London."