Brussels' Incident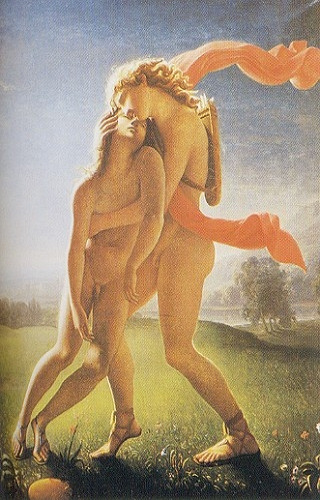 Hyacinth's death. Jean Broc, 1801.
Verlaine's Declaration to the Superintendent
10th July 1873.

I arrived in Brussels for four days, unhappy and despaired. I know Rimbaud since more than a year. I lived with him in London, that I left four days ago to come to live in Brussels, to be nearer my business, pleading in separation with my wife living in Paris, who pretends that I have immoral relations with Rimbaud.


I have written to my wife that if she doesn't come in these three days to meet me I will blow my brain out;and it is with this aim that I bought the revolver this morning in the passage of the Galleries Saint-Hubert, with the holster and a box of caps, for the sum of 23 francs.


Since my arrival in Brussels, I received a letter from Rimbaud who asked to come and join me. I sent him a telegram telling that I was waiting for him;and he arrived two days ago. Today, seeing that I was unhappy, he wanted to leave me. I yielded to one moment of madness and I fired at him. He didn't lodge a complaint at this moment. I went to the St. John Hospital with him and my mother for his wound to be dressed then we came back together. Rimbaud wanted absolutely to leave. My mother has given him twenty francs for his journey;and it is while taking him to the station that he pretended I wanted to kill him.
P. Verlaine
Rimbaud's Declaration to the Superintendent
10th July 1873 (around 8pm).

For over a year I lived with Mr Verlaine in London. We worked as correspondents for newspapers and gave lessons of French. His company was becoming impossible, and I wanted to return to Paris. Four days ago, he left me to go to Brussels and sent me telegram inviting me to join him. Since 2 days I arrived, and stayed with him and his mother at No.1 Rue Des Brasseurs. I always told him that I wanted to go back to Paris. He answered: "Yes leave, you will see what comes of it!".

That morning he bought a pistol in a passage of the Galleries Saint-Hubert, which he showed me on his return, around noon. We went to the Maison Des Brasseurs, at Grand Place, where we continued to chat about my departure. Back to our house at around 2 o'clock, he locked the door with a key, sat himself down in front of it, then armed his pistol and fired it twice. He said "I will teach you to leave!".

The shots were fired three meters away. The first hurt my left wrist, the second didn't hit me. His mother was there and she gave me first aid. Then I went to the St. John Hospital where they dressed my wound. I was accompanied by Verlaine and his mother. When the dressing was put on, we all returned to the house. Verlaine went on to say to me not to leave him and to stay with him;but I didn't accept and I left around 7 o'clock in the evening with Verlaine and his mother. When we arrived near Place Rouppe, Verlaine went ahead of me, then came back to my side. I saw him put his hand in his pocket to grab his pistol. I made a U-turn and retraced my steps. I met a policeman who I told what happened to me, and who asked Verlaine to follow him to the police station. If Verlaine had let me leave peacefully, I would not have lodged a complaint against him about the injury he made to me.
Deposition by Rimbaud before the Examining Magistrate
12th July 1873

About two years ago I became acquainted with Verlaine in Paris. Last year, after some disagreements with bis wife and with her family, he suggested that I should go abroad with him;we were going to have to make a living somehow or other, because I have no money of my own, and Verlaine only has what he can get from his work and some money which his mother gives him. We came to Brussels together in the month of July last year;we stayed here for about two months;and seeing that there was nothing we could do in this town, we went to London. We lived there together until lately, sharing the same lodgings and using everything in common.

Following an argument which we had at the beginning of last week, arising from reproaches which I made to him about his indolence and his behaviour towards certain persons we knew, Verlaine left me practically without warning, without even telling me where he was going. However I supposed he was going to Brussels, or would pass through it, because he had taken the Antwerp boat. Then I received a letter from him headed "At sea", which I shall hand to you, in which he told me that he was going to ask his wife to come to him where he was, and that if she had not answered his call within three days, he was going to kill himself; he also told me to write to him poste restante at Brussels. I immediately wrote him two Ietters in which I asked hlm to come back to London or to consent to my rejoining him in Brussels. It was then that he sent me a telegram (telling me) to come here, to Brussels. I wanted us to be reunited again, because there was no reason why we should separate.

I left London, therefor e; I arrived in Brussels on Tuesday morning, and went to meet Verlaine. His mother was with him. He had no fixed plan: he did not wish to stay in Brussels, because he feared that there would be nothing for him to do in this city;for my part, I did not wish to consent to return to London as he suggested, because our departure had caused too much bad feeling on the part of our friends, and I was determined to go back to Paris. Sometimes Verlaine gave me to understand that it was his intention to come with me, in justice, as he put it, to his wife and his wife's family;at other time he refused to come with me, because Paris brought back memories to him which were too painful. He was in a very excitable frame of mind. Neverthe1ess he vas very insistent that I should stay with him: he alternated between despair and rage. There was no coherence in his ideas. On Wednesday evening he had more than enough to drink and became drunk. On Thursday morning he went out at six o'clock and did onot come back until nearly noon;he was again in a state of intoxication, he showed me a pistol which he had bought, and when I asked him what he intended to do with it, he replied in a joking manner: "It's for you, for me, for everyone!" He was extremely overexcited.

While we were together in our bedroom, he went down several more times to drink liqueurs ; he still wished to prevent me from carrying into execution my plan of going back to Paris. I remained resolute. I even asked his mother for some money for the journey. Then, at a given moment, he locked the door of the room which gave on to the staircase and sat on a chair against this door. I was standing, leaning my back on the wall facing it. He then said to me: "This is for you, then, since you're going!" or words to this effect;he aimed his pistol at me and fired a shot at me which hit me in the left wrist;the first shot was almost immediately followed by a second, but this time the weapon was no longer pointing at me, but down at the floor.

Verlaine at once expressed the deepest regret for what he had done;he rushed into tbe adjoining room, which was occupied by his mother, and threw himself on the bed. He vas like a madman: he put his pistol into my bands and pledged me to fire it at his temple. His attitude was of profound sorrow at what had happened to him.

About five o'clock in the afternoon, his mother and he brought me here to be treated. When we got back to the hotel, Verlaine and his mother made the suggestion that I should stay with tbem and be looked after, or go back to hospital until I was completely healed. The wound did not seem very serious to me, I told them I intended to return to France that very evening;to my mother's in Charleville. This news threw Verlaine into despair again. His mother gave me twenty francs for the journey, and they came out with me to accompany me to the Midi terminus.

Verlaine behaved as if he were mad. He did everything he could to stop me from going;besides which, he kept his hand all the time in the pocket of his jacket where his pistol was. When we arrived at the Place Rouppe, he went a few paces ahead of us, and then he came back towards me. His manner caused me to fear that he might give himself over to new excesses. I turned and ran away. It was then that I asked a police officer to arrest him.

The bullet in my hand has not yet been removed: the doctor here tells me that it will not be possible for two or three days.
Question.: What did you live on in London?
Answer.: Mainly on the money which Madame Verlaine used to send to her son. We also had French lessons which we gave together, but these lessons did not earn us very much, about a dozen francs a week, towards the end.
Q.: Do you know the reason for the disagreements between Verlaine and his wife?
A.: Verlaine did not wish his wife to continue to live at her father's house.
Q.: Does she not also name as a cause for complaint your intimacy with Verlaine?
A.: Yes, she even accuses us of immoral relations;but I do not wish to trouble to give the lie to such calumnies.

Read, confirmed, and signed:
A. Rimbaud, Th. T'Serstevens, C. Ligour.
Act of Renunciation
I the undersigned, Arthur Rimbaud, 19 yeard old,
man of letters, usually living in
Charleville, (Ardennes-France), declare, to
pay homage to the truth, that on Thursday the 10th instant,
about 2 o'clock, when M. Paul Verlaine,
in his mother's bedroom, fired a shot of revolver at me
which slightly wounded me in
the left wrist, M. Verlaine was so
drunken that he was not aware of his act
That I am deeply convinced that in buying
that weapon, M. Verlaine had no
hostile intention towards me, and that there was no
any criminal premeditation, in the act
of locking the door behind us
That the reason of M. Verlaine's drunkenness
was simply due to the thought of his disagreements with
Mrs Verlaine, his wife
I further declare that I gladly offer him and
consent to my renunciation pure and simple
to any action criminal, correctionnal and civil
and I henceforth give up all rights to any benefit from
any prosecution which may or wight be
instituted by the Public Ministry against
M. Verlaine for the actions herein specified
A. Rimbaud
Saturday, 19th July 1873
- Rimbaud's declaration and renonciation are extracted from the book n° 4: "Rimbaud les lettres manuscrites, commentaires, transcriptions et cheminements des manuscrits" by Claude Jeancolas.
- Verlaine's declaration comes from the book "Verlaine Fêtes galantes et autres poèmes - Ecrits sur Rimbaud".
Deposition by Rimbaud before the Examining Magistrate comes from the book "Arthur Rimbaud, Collected Poems", translation by Oliver Bernard, Penguin classics.
- Translation by Catherine, with the help of Oliver's Bernard book: "Rimbaud's collected poems".