Arthur Rimbaud's Letters to Theodore de Banville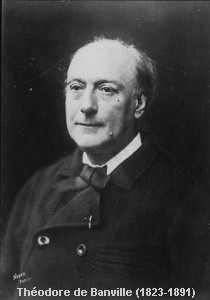 Letter to Theodore de Banville, May 24, 1870
Charleville (Ardennes), on May 24 187O.
To Mister Theodore de Banville.
Dear Professor,

We are now in the months of love; I'm almost seventeen. The hopefull and dreamy age, as they say, - and I have begun, a child touched by the Muse , - sorry if it is banal, - to express my beliefs, my hopes, my feelings, all those things proper to poets - I call this Spring.

And if I send you some of these verses, - and this through Alph. Lemerre, the good publisher, - it is because I love all the poets, all the good Parnassiens, - since the poet is a Parnassien, - in love with ideal beauty; it is what I admire in you, very naïvely, a descendant of Ronsard, a brother of our masters of 1830, a real romantic, a real poet. That is why, - it is foolish, isn't it, but still?...

In two years, in one year perhaps, I shall be in Paris. - Anch'io, gentlemen of the Press, I shall be a Parnassien! - I do not know what is inside me... that wants to come out... - I swear, dear Professor, that I shall always adore the two goddesses, Muse and Freedom.

Do not frown too much when you will read these verses... You would send me mad with joy and hope, if you would, dear Professor, arrange to make a place to Credo in Unam among the Parnassiens... I should be in the latest number of Parnasse: it would be the Credo of the poets!... - Ambition! O Mad Ambition!
Arthur Rimbaud.
------------------ * * * ------------------

On the blue summer evenings, I shall go down the paths,
Getting pricked by the corn, crushing the short grass:
In a dream I shall feel its coolness on my feet
I shall let the wind bathe my bare head...

I shall not speak, I shall think about nothing...
But endless love will mount in my soul:
And I shall travel far, very far, like a gipsy,
Through the countryside - as happy as if I were with a woman!

20 April 1870
A.R.

On the calm black water where the stars are sleeping
etc...

15 May 1870.
Arthur Rimbaud.

The Sun, the hearth of affection and life,
etc...

29 April 1870
Arthur Rimbaud

If those verses should find a place in the contemporary Parnasse?
- aren't they the faith of the poets?
- I am not famous; does it matter? Poets are all brothers.

Those verses believe; they love; they hope: that is all.
- Dear Professor, to me: help me a little: I am young: hold out your hand to me...
Letter to Theodore de Banville, August 15, 1871
To Monsieur Theodore de Banville.

Sir and Dear Professor,

Do you remember that you received from province, in June 1870, one-hundred or one-hundred and fifty mythological hexameters called Credo in unam? You were enough good to answer me!


It is the same fool that send you the verses above, signed Alcide Bava. - Excuse me.
I am eighteen. - I shall always like the verses of Banville.


Last year I was only seventeen!
Did I make progress?
Alcide Bava
A.R.

My adress:

Mr Charles Bretagne,
Avenue de Mézières, à Charleville,
for
A. Rimbaud.
- Translation by Catherine. All Right Reserved.