Charleville

The map of the Rimbaldian tour in Charleville-Mézières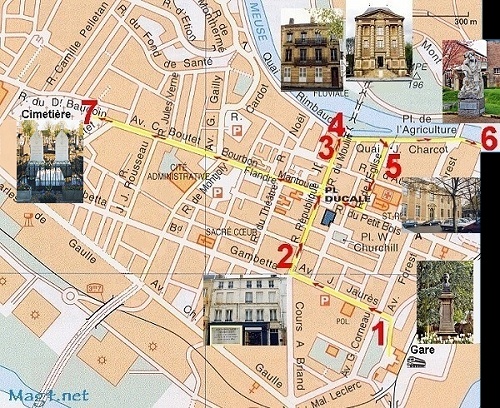 1. Rimbaud's bust in the square, in front of the station.
2. Rimbaud's native house, 12 rue Beregovoy (old rue Napoleon)
3. Rimbaud's house when a teenager, from 1869 to 1875, 7 Quai Rimbaud, on the banks of the Meuse.
4. Rimbaud's Museum in the old Mill. Opened daily except on Monday, from 10AM to 12PM and from 2PM from 6PM. Phone : 33+(0)3.24.32.44.65.
5. The Town Library, in the old college.
6. The new College Arthur Rimbaud. Statue of the poet by Hervé Tonglet, sculptor from Ardennes, 1997. "One must be absolutely modern" (A Season in Hell : Farewell)
7. Rimbaud's grave in the old cemetery, avenue Charles Boutet.
Click on the thumbnails to enlarge pictures.
Some more pics from contributors.
Other links: