Disaster Was My God: A Novel of the Outlaw Life of Arthur Rimbaud by Bruce Duffy
Catherine | 17/08/2011 | 21:13 | News | Permalink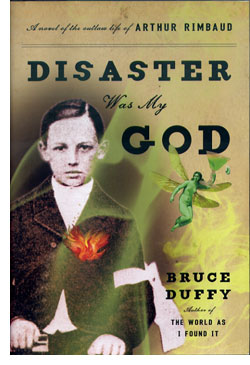 Alan Cheuse reviews a novel based on the real life of the French poet Arthur Rimbaud, called Disaster Was My God.
ROBERT SIEGEL, host: Writing biographical novels about intellectuals would hardly seem the most likely path to success for a writer, but Bruce Duffy seems to be making a go of it.
A few years ago, he wrote a novel about 20th century philosopher Ludwig Wittgenstein, and now he has tapped into the life of 19th century French poet Arthur Rimbaud in his book "Disaster Was My God."
Reviewer Alan Cheuse is glad that he did.
ALAN CHEUSE: Good student at 12, provincial rascal at 15, major poet before 20, his life included a tumultuous homosexual love affair with married Parisian poet Paul Verlaine.
Arthur Rimbaud ended his writing career by age 20 and took off for Africa, where he became a savage businessman and gun runner. This flaunting, James Dean-like sexpot, petty thief, public nuisance, sometimes raging, sometimes sulking genius. There's quite enough in his short life for most novelists to work with, and Bruce Duffy does it up big.
His raucous, bawdy and ultimately worshipful take on the infamous poete maudit - as in cursed poet - offers histrionic scenes of pain, degradation, sheer madness and intermittent danger.
But Duffy also focuses on Rimbaud's poems, which overturn the ideals of classical French poetry; visionary work that opened the door to modern emotions and longings. So it's fitting that this meta-fictional biography seems always in a state of constant verbal agitation.
Duffy carries the reader beyond the usual ventriloquism of a realistic rendering of the material to a playful level above and beyond it. And his portrait of a mama's boy gone mad turns out to be quite entertaining. As in the Abyssinian desert town of Harrar, where Rimbaud makes his base until his late 30s, when he heads home to France to die, the heat in this novel remains constant.
SIEGEL: "Disaster Was My God" is by Bruce Duffy. Alan Cheuse teaches writing at George Mason University in Fairfax, Virginia.
Source : National Public Radio
Product Description
The author of the critically acclaimed novel The World as I Found It brilliantly reimagines the scandalous life of the pioneering, proto-punk poet Arthur Rimbaud.
Arthur Rimbaud, the enfant terrible of French letters, more than holds his own with Lord Byron and Oscar Wilde in terms of bold writing and salacious interest. In the space of one year—1871—with a handful of startling poems he transformed himself from a teenaged bumpkin into the literary sensation of Paris. He was taken up, then taken in, by the older and married poet Paul Verlaine in a passionate affair. When Rimbaud sought to end it, Verlaine, in a jeal­ous rage, shot him. Shortly thereafter, Rimbaud—just shy of his twentieth birthday—declared himself finished with literature. His resignation notice was his immortal prose poem A Season in Hell. In time, Rimbaud wound up a pros­perous trader and arms dealer in Ethiopia. But a cancerous leg forced him to return to France, to the family farm, with his sister and loving but overbearing mother. He died at thirty-seven.
Bruce Duffy takes the bare facts of Rimbaud's fascinating existence and brings them vividly to life in a story rich with people, places, and paradox. In this unprecedented work of fictional biography, Duffy conveys, as few ever have, the inner turmoil of this calculating genius of outrage, whose work and untidy life essentially anticipated and created the twentieth century's culture of rebellion. It helps us see why such protean rock figures as Bob Dylan, Jim Morrison, and Patti Smith adopted Rimbaud as their idol.
Hardcover: 384 pages
Publisher: Doubleday (July 19, 2011)
Language: English
ISBN-10: 0385534361
ISBN-13: 978-0385534369
Source: Amazon.com