Poet in the city invites you to Rimbaud & Verlaine
Catherine | 17/04/2009 | 21:16 | News | Permalink
An event celebrating the life and works of two of France's greatest poets, chaired by Alan Jenkins, featuring Graham Robb, Dominique Combe, Martin Sorrell, Yann Frémy and the distinguished actors Bill Homewood and Estelle Kohler.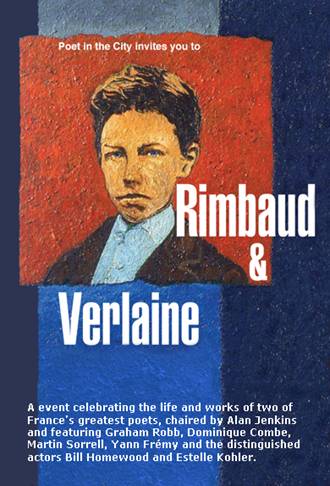 Arthur Rimbaud by Hervé Constant
Collection of The Arthur Rimbaud Museum France
In 1872 literary France was scandalized when Arthur Rimbaud, the enfant terrible of French poetry, seduced Paul Verlaine, then a much more famous poet, away from his wife and child and ran away with him to London. Two of the greatest French poets of the Nineteenth century, they have been hailed as harbingers of the modern age, the inspiration for Rock Stars, and as pioneers for gay rights. This spectacular Poet in the City event will celebrate the poetry of Rimbaud and Verlaine and the stormy but creative period they spent together at No 8 Royal College Street in King's Cross in 1873.
Chaired by Alan Jenkins, Poetry and Deputy editor of the TLS. His most recent collections of poetry are A Shorter Life (2005) and a highly acclaimed translation of Rimbaud's "Le Bateau Ivre": Drunken Boats, 2007.
Graham Robb, literary and cultural historian, formerly Fellow and Lecturer at Exeter College Oxford. Prize-winning biographer of Rimbaud, Balzac and Victor Hugo, his latest book is The Discovery of France.
Dominique Combe, Professor of French Literature at the Paris Sorbonne, also Visiting Professor and Fellow of Wadham College Oxford. A specialist in 19th-21st century poetry, his notable study of Rimbaud was published in 2004.
Martin Sorrell, Professor of French at Exeter University. His books include: Verlaine: Selected Poems and Rimbaud: Collected Poems. His last play, The Glass Man, won the Mental Health Media Award for Best Radio Drama, 2006.
Yann Frémy, currently author and co-editor of recognised Rimbaud and Verlaine studies, he organises the Annual "Verlaine/Rimbaud" Seminars at Paris Sorbonne, and is a member of Strasbourg University CERIEL group.
With readings by the distinguished actors: Bill Homewood and Estelle Kohler, leading players with the Royal Shakespeare Company Shakespeare's Lovers is their recent best-selling recording.
Poet in the City is delighted to be working with Kings Place in King's Cross, the new home of Guardian News and Media. This spectacular new building includes performance spaces, galleries, restaurants and a book shop. The charity will be holding a whole series of exciting events in Hall One at Kings Place during 2009.
From 6.30pm on Monday 27th April 2009 in Hall One at Kings place, the new home of Guardian News and Media, 90 York Way, London N1 9AG.
The event itself will start promptly at 7.00pm
How to buy tickets
Booking now open online, by phone or in person from the Kings Place box office:
Tickets cost £9.50 if booked online via www.kingsplace.co.uk
Otherwise tickets cost £11.50. Box Office 0844 264 0321 (local rate)
For enquiries relating to your booking please contact tickets@kingsplace.co.uk. To check ticket availability please use the online booking service.
For general enquiries or comments, please use our online feedback form or email info@kingsplace.co.uk
Poet in the City is a registered charity committed to attracting new audiences to poetry, making new connections for poetry, and raising money to support poetry education, in particular the placing of poets in schools.